The 9th Workshop on Flexible & Printed Electronics Industry (Targeting the Digital Transformation) – the leading event in the groundbreaking sector of Flexible & Printed Electronics – co-organized by the Nanotechnology Lab LTFN and the Hellenic Organic & Printed Electronics Association (HOPE-A), which was held on the 22nd of October in Divani Caravel Hotel in Athens, concluded with great success and eagerness for collaborations which will make use of the sector's potential and will drive the country's economy forward.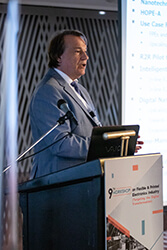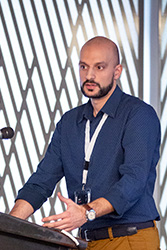 During the event, OET presented its innovative products and services as well as the new trends in the Organic and Printed Electronics industry. OET had the chance to present its latest activities and on the OPVs/OLEDs Large Area Production, their applications in  Automotive, Lighting, Wearables and Smart/Intelligent Packaging Solutions for OE's Manufacturing. Among the latest updates in the OEs Field, OET has contacted distinguished guests from the business, scientific and political sector, as well as national and public authority's representatives.
Greek Dep. Minister of Environment & Energy, Mr. S. Famellos visiting OET's display of products and activities
In the networking sessions, the Workshop's attendees shared their experiences, concerns and aspirations in order to find common ways of work towards the commercialization of this rapidly evolving field.
OE-Technologies would like to thank all Workshop attendees and would be pleased to communicate with you in order to inform you further on our products and services.